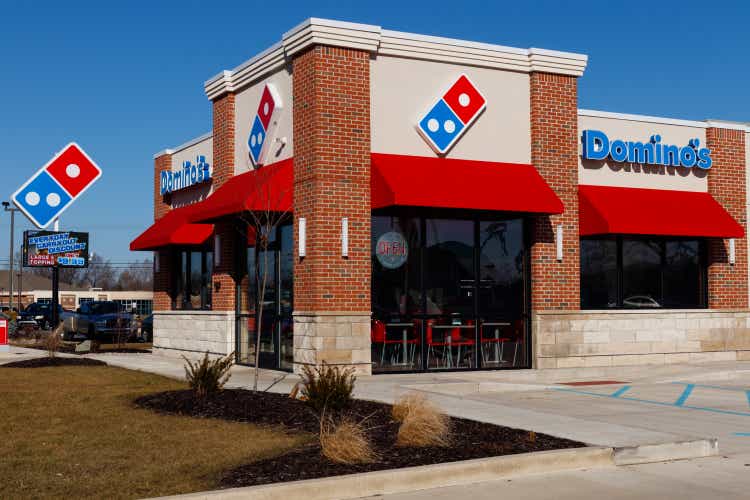 jetcityimage
Domino's Pizza (NYSE:DPZ) is scheduled to report F2Q2022 earnings on July 15, 2022, before the market opens. The average consensus revenue and earnings per share estimates for the quarter are ~$1.05 billion and $2.89. Based on continued headwinds associated with the U.S. business, we expect relatively muted second quarter growth in revenues and earnings.
Given the challenges DPZ's business encountered in the first quarter have persisted, we don't anticipate much change in financial results over F2Q2022. Demand might have increased as the firm committed to return to regular operating hours and launch Boost Week, where customers receive a 50% discount on their next pizza. However, considering that it was not customer demand that was the problem over F1Q2022, but rather the constrained capacity to service the demand, that impacted sales growth, strategies to boost sales appear moot, in our judgment. Overall, F2Q2022 was likely a continuation of the first quarter, reflecting a terrible financial performance, driven by persisting tough comparables (as starting in March last year sales escalated significantly due to money from the stimulus package hitting customer pockets), and the continued scarcity of delivery drivers. However, international sales likely continued to recover, excluding the impact of a stronger dollar. Nevertheless, on a three-year basis, which we believe is sensible, as food service conditions have reverted back to pre-pandemic levels, the company's global sales growth possibly outperformed substantially.
Considering that ~1/3rd of DPZ's restaurant footprint resides in the U.S. and accounts for a majority of its profits, the expected uptrend in international sales although contributing higher margin royalty revenues (based on ~4% to ~5% of total overseas sales), was probably insufficient to counter the impact of declines in domestic sales, and total revenue growth likely contracted substantially over the period. Combining the revenue deleveraging due to lighter sales associated with the U.S. business with continued inflationary pressures related to commodities and labor, margins probably declined at the restaurant level and the corporate level. Consequently, we expect earnings and free cash flows for the period to come in lighter on an annualized basis.
Beyond the second quarter, we believe financial performance is likely to remain challenging, as headwinds related to the domestic business, including, delivery driver shortage, cost inflation related to labor and commodities, and tough comparables associated with the impact of last year's federal stimulus checks and unemployment benefits, that continued through September, will possibly persist, leading to shortfall in global sales growth. Therefore, although, we anticipate that international sales growth will continue to be strong, and expect some easing in commodity costs towards the back end of the year, margins, profits, and free cash flows, for FY2022 are likely to decline compared to FY2021, in our opinion.
We believe, a fundamental shift is underway in the quick service pizza industry, fueled by the changing landscape related to drivers and that a majority of restaurants, including chains and independents, now offer food delivery. With respect to drivers, the opportunities available to them have expanded substantially, with the growth of: delivery cabs such as Uber (UBER) and Lyft (LYFT), grocery delivery by most major chains, and of course food delivery, associated not only with individual restaurant companies, but also third party delivery platforms. In the context of the expansion of food delivery, in order to adapt to the social distancing restrictions associated with COVID, a large number of restaurant companies scrambled and developed delivery platforms to somewhat mitigate the losses to their businesses from the shuttering of dining rooms. In that regard, it is noteworthy that despite the return of dine-in sales, as the viral outbreak ebbs, delivery sales have been sustained to a large degree, which reflects in the continued high demand for food delivery drivers. Therefore, although the overall availability of food delivery drivers has advanced during and following the end of the pandemic, the demand far outstrips the supply. Consequently, DPZ is encountering an environment which is considerably different from that it enjoyed prior to COVID.
Although, the brand is limited in the actions it can implement to counter the impact of customers now having a larger selection of delivery cuisine to choose from (DPZ can increase menu offerings but benefits linked to maintaining the current simplicity of menu and kitchen operations can't be overlooked either), it does have significant opportunity to improve the desirability of delivery driver positions at the firm. Over recent quarters, DPZ has implemented several initiatives including outsourcing the folding of pizza boxes and running pizzas to driver cars, with a view to optimize driver time. An additional strategy, we believe will support efforts to secure large numbers of new drivers is promoting delivery driver jobs as entry-level positions that offer the potential to develop into a career as a store manager or even an eventual franchisee, as has been the case for numerous such hires. In addition, management indicated that all options to enhance delivery capacity, including agreements with third party aggregators, such as a white glove service where DPZ simply utilizes drivers associated with delivery aggregators, are on the table. Overall, we are confident that management is savvy enough to counter the near-term challenges facing the company. Therefore, we do not anticipate any major permanent shift in the DPZ's secular growth prospects due to the present environment.
Over the long term, the international business will drive most of DPZ's revenue growth, through a substantial increase in the store count as well as significant same-store sales growth, leading to dramatic upsurge in retail sales. Domestically, we expect relatively slower revenue growth, with footprint expansion driving most of the advance in retail sales, and same-store sales growth remaining tepid. Nevertheless, based on dramatic success in international markets, DPZ will handily achieve its two to three year retail sales growth target of ~6% to ~10%, in our assessment. In addition, based on our longer-term expectations of lower commodity costs and no shortage of labor, as well as improvements in operations, and economies of scale and scope related to corporate spending, the digital platform, and advertising, we anticipate significant margin expansion. The revenue leverage from the potential sharply higher retail sales will come on top of the opportunities for margin expansion described above, driving further operating leverage. Overall, the anticipated dramatic upsurge in retail sales and margins will reflect in considerable escalation in profits and free cash flows on a secular basis, in our opinion.
Although, DPZ is likely to encounter near-term headwinds, we remain upbeat on the firm on a long-term basis. However, we are adjusting for slower growth this year by lowering our 5-year normalized revenue growth rate to 7.75% from the prior 8% and 5-year straight-lined operating cash flows margin to 12.75% from the previous 13%. Factoring these changes into our 5-year discounted cash flow model for DPZ, we arrive at a 1-year Price Target of $479/share versus the prior $498/share. Reiterate Buy Rating. (Please go through our initiation report "Domino's Pizza: Set To Capture An Additional Fraction Of The High Growth Global Pizza Market" and additional notes for our long term opinion on the stock).
F1Q2022 Results Summary. For the period, revenues of ~$1.34 billion (+2.8% on a year over year basis), missed consensus estimates of ~$1.38 billion, and earnings per share of $2.50 (-16.7% compared to F1Q2021), was below analyst projections of $4.29. On a year-over-year basis, global retail sales increased 0.3%, U.S. sales decreased 1.4%, and international sales increased 2%. U.S. same-store sales declined by 3.6%, while those associated with the international business expanded by 1.6%, compared to F1Q2021. Net income for the period was ~$91 million, reflecting a contraction of 22.8% over the previous year's same quarter. During F1Q2022, the firm generated operating cash flows of ~$78.8 million, and free cash flows of ~$66.3 million.
Delivery Transactions Woes Continue. During F1Q2022, delivery same-store sales declined by 10.7% on a year-over-year basis and narrowed to 6% compared to F1Q2019. In addition, there was a 17% difference in same-store-sales between the top 20% stores that are typically fully staffed and the bottom 20% that generally account for the greatest staffing shortage. In alternate terms, stores that had enough drivers to fulfill delivery orders, were the clear winners.
In our judgment, the key factor driving the demand versus supply mismatch is DPZ's inability to hire enough new drivers to meet DPZ's growing customer demand, which has expanded by ~23% since F1Q2019. Although, the firm has implemented changes to keep drivers on the road rather than wasting time performing store operations, they have been insufficient to encourage folks to sign up. Therefore, new strategies have been rolled out, including reducing new hire processing times and flexible hours. In addition, given the direct relationship between staffing levels and the tenure of store general managers, DPZ has increased focus on efforts that will likely encourage restaurant level leadership to develop long-term careers at the firm.
In our opinion, this problem of driver shortage is propelled for the most part by external forces rather than factors internal to DPZ. However, given the highly competitive environment, we are encouraged that the company is expending efforts to improve employment conditions for drivers. Nevertheless, given the extraordinary demand for drivers, we believe that above average wages will be required to attract the substantial number of drivers DPZ needs to fulfill customer demand. In addition, promoting driver jobs as entry-level positions with the potential to develop into professional roles, would be incrementally supportive, in our assessment.
Demand Remained Strong Despite Supply Constraints. With a view to match demand and supply, which continued to suffer due to staffing challenges, specifically the persistent shortage of delivery drivers, DPZ had to limit customer orders by reducing store hours, not answering the phones, and restricting online transactions. In that regard, it is important to note that as carry-out transactions are the least labor intensive of all order types, and not dependent on delivery drivers, sales in the channel outperformed on a one-year basis and three-year basis. Specifically carry-out sales expanded by 11.3% compared to F1Q2021 and 24% versus F1Q2019.
In addition, that the $7.99 large three topping pizza carry-out deal orders are required to be placed through digital channels, further incentivizes the carry-out business, as digital sales generate the highest margins, and customers that transact online, typically order more frequently and with higher check values. Moreover, guests that register to access online order and pay, generally enroll in the loyalty program, points associated with which can be exchanged for free food, by placing online only orders, further expanding digital sales.
In addition, curb-side delivery orders, are another form of carry-out, different only in that employees run pizzas to customer cars within two minutes of their pulling over in the store parking lot. A majority of these types of transactions are mobile order and pay, further increasing digital sales. Considering that curb-side delivery appears broadly similar to the popular drive-thru concept, we expect the feature to account for material growth in total sales, over the long term.
International Sales Contribution Continued To Expand. During F1Q2022, international sales advanced by 8.4% on a one-year basis and by 28% on a three-year basis. In addition, same-store sales associated with foreign territories expanded by 1.2% on a year-over-year basis and 14.5% compared to F1Q2019. Given the financial outcomes, it appears that DPZ's overseas markets have regained the momentum they had lost during the pandemic. In addition, with merely ~12,000 international stores, DPZ has significant white space to derive additional sales growth from, particularly given that ~75% of the world's GDP is generated outside the U.S., representing a substantial growth opportunity. In that regard, during the last four quarters, the international restaurant footprint expanded by ~7% inline with the ~6% to ~8% new unit growth target management has guided to.
Over the first quarter, India and China experienced strong growth in system sales and in same-store sales. Additional regions with solid sales upside included Mexico, Spain, Taiwan, Turkey, Iceland, and Guatemala. Further, during the period DPZ launched its 1,500th store in India, and Alamar Foods, the company's master franchisee that manages its Middle Eastern and African territories, opened it 500th store.
Given, the potential for significant sales upside, associated with additional international diversification, we are glad that DPZ continues to deliver substantial foreign new unit growth.
Balance Sheet Remains Strong. At the end of F1Q2022, the company had an unrestricted cash and cash equivalents balance of ~$165 million and long term debt of $5.06 billion on its balance sheet. In regard to available funding, DPZ has $159 million from a variable note it issued previously, and additional capital from a recent refinancing. Given these factors, we believe that the firm will handily maintain liquidity over the final stretch of the pandemic. DPZ announced a dividend of $1.10/share for the fourth quarter, and had ~$656 million remaining on a $1 billion share repurchase program.
Considering the runaway growth DPZ's U.S. business experienced over the pandemic, squeezing out additional strong growth from the domestic market, will be a challenge. Combining that element with difficult macro conditions, the company is in for tepid U.S. growth for the foreseeable future. Although, some of the slack in earnings related to state-side operations will be off-set by the strength of the international business, growth rates witnessed during the pandemic are unlikely to reoccur.
We view DPZ as a mature company with its rapid growth days behind it. That being said, we don't see much on the horizon that will knock the firm off its front runner position in the global pizza market. Given that DPZ generated ~$18 billion in retail sales last year, the reasonable growth in revenues and earnings we are predicting will handily fund the large dividends the company routinely provides investors.
Overall, DPZ's stock is a must Buy for folks seeking a safe investment which provides significant quarterly dividends.
This article was written by
Disclosure: I/we have no stock, option or similar derivative position in any of the companies mentioned, and no plans to initiate any such positions within the next 72 hours. I wrote this article myself, and it expresses my own opinions. I am not receiving compensation for it (other than from Seeking Alpha). I have no business relationship with any company whose stock is mentioned in this article.