Filter By
(Change?)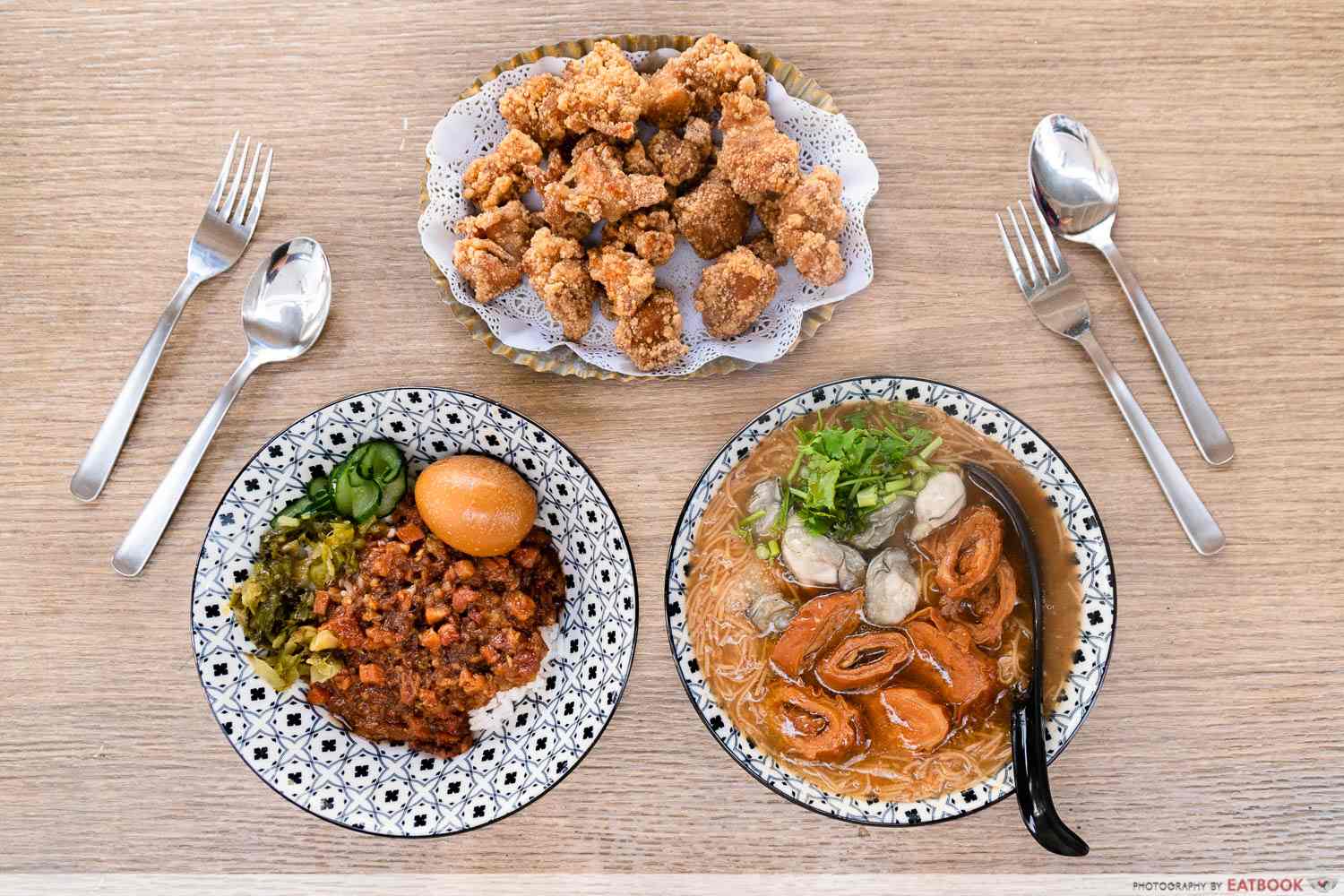 Having spent six months in Taipei during my university exchange, I'm pretty acquainted with Taiwanese street food.  Travelling there is out of the equation for a while now, so I was starting to miss my dose of lu rou fan and oyster mee sua. After all, no one does it as well as the motherland—that is, until the arrival of Want Food Taiwanese Delights.
Dont Yell At Me Review: Taiwanese Bubble Tea Cafe With Layered Drinks Including Tiramisu Cheese Foam

Helmed by Taiwan-born Morgan Liu, the charming 10-seater had been on my radar since launching in late 2021. The word on the street was that they serve legit Taiwan-style dishes in an aesthetic, rustic-looking space. There was only one way to find out, so I made my way there on a weekday afternoon.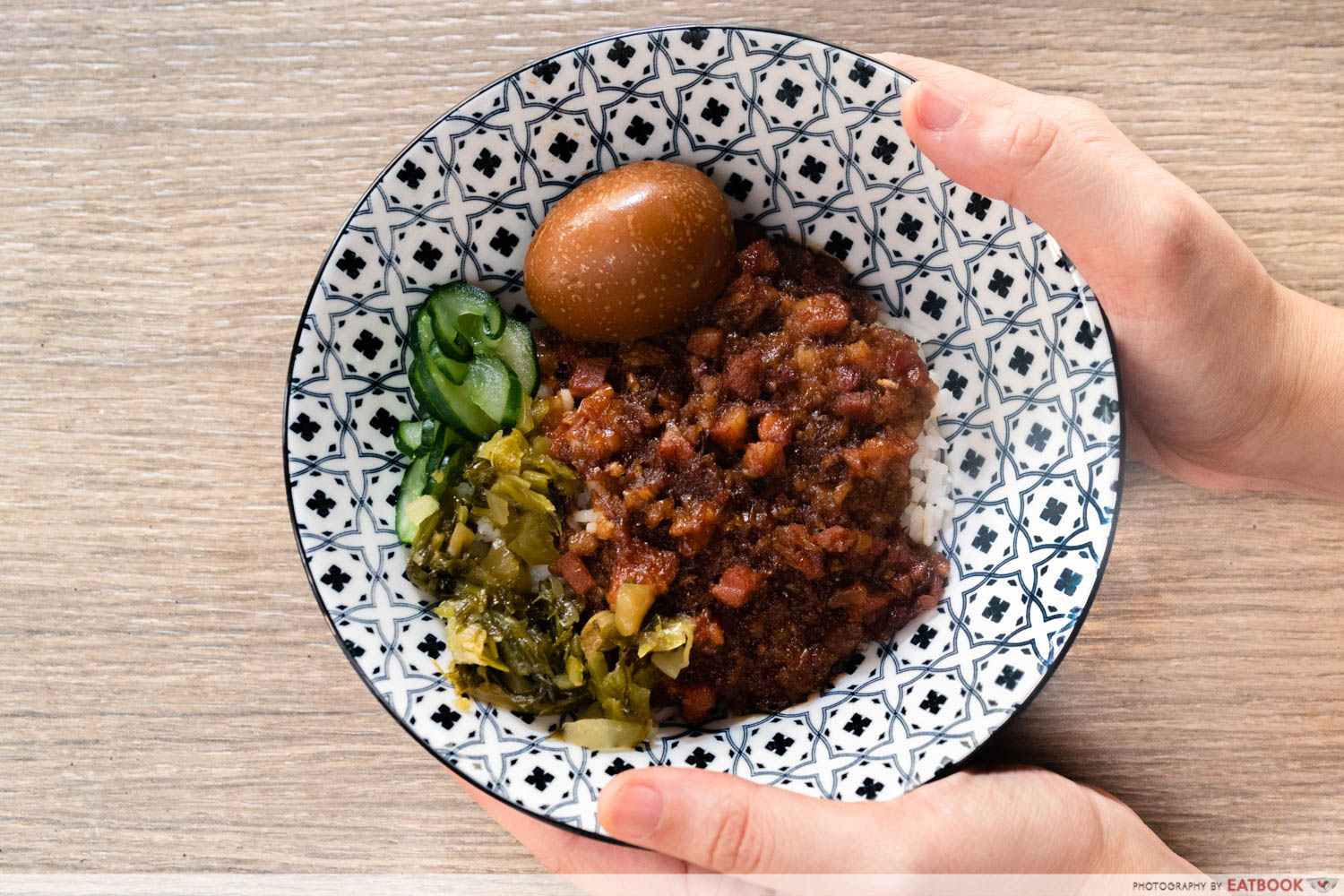 If you have room for only one dish, make it the Taiwanese Braised Minced Pork Rice ($7.90) AKA lu rou fan. Upon closer inspection, I was surprised to see that the chunks of meat were less fatty than those you'd usually find served on the streets of Taiwan. Nonetheless, the minced pork was no less tasty, with juicy fat pockets that dissolved in the mouth with zero effort.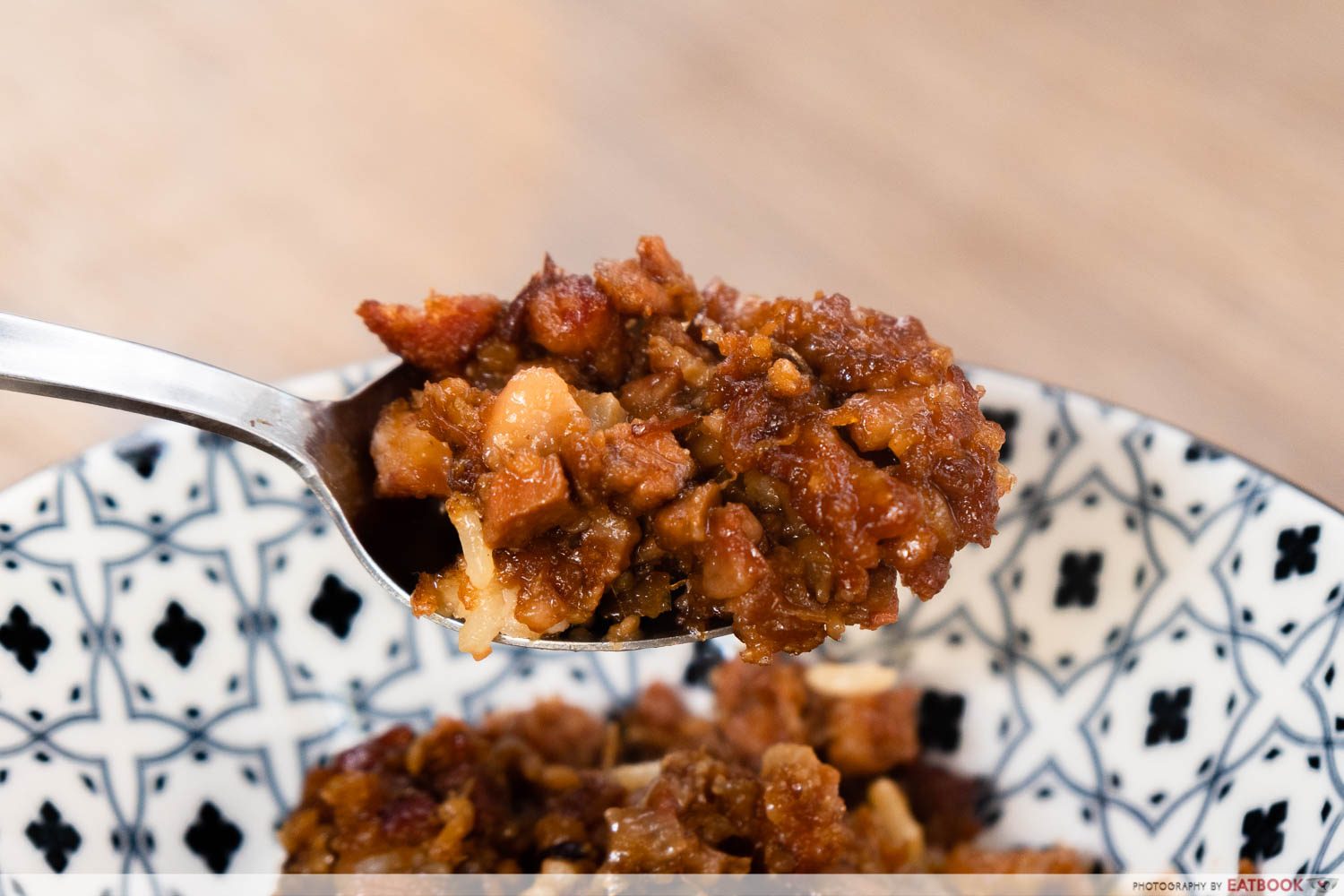 Each grain of rice was coated with an enticing sheen from the flavourful braising sauce, with just the right amount of grease. Paired with bite-sized bits of preserved veggies and pickles, each spoonful was the perfect balance of rich and fatty goodness matched by a burst of acidity and crunch.
This was exactly how I liked my lu rou fan: hearty and savoury without being cloying. For $7.90, I thought the portion was decent as well.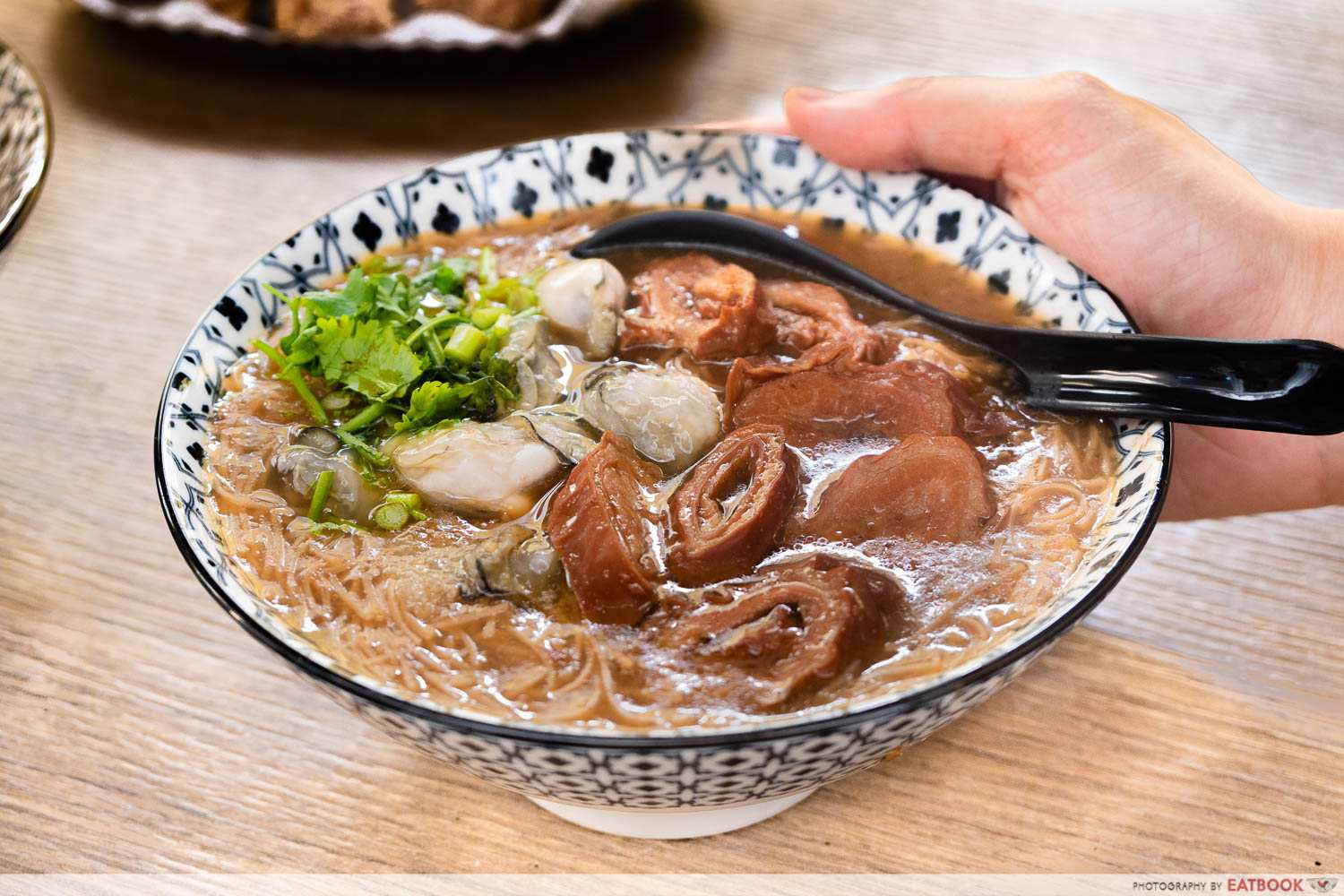 No Taiwanese affair is complete without an order of oyster mee sua. Here, a full portion of the Signature Oyster Intestine Mee Sua ($9.90) is plenty sufficient to sort your cravings. Generously filled to the brim, this rendition sees starchy vermicelli noodles cooked in an umami-ladened, bonito-infused stock. While I personally found it towards the bland side, a splash of vinegar did the trick to lift the flavours, giving it a much-needed zing.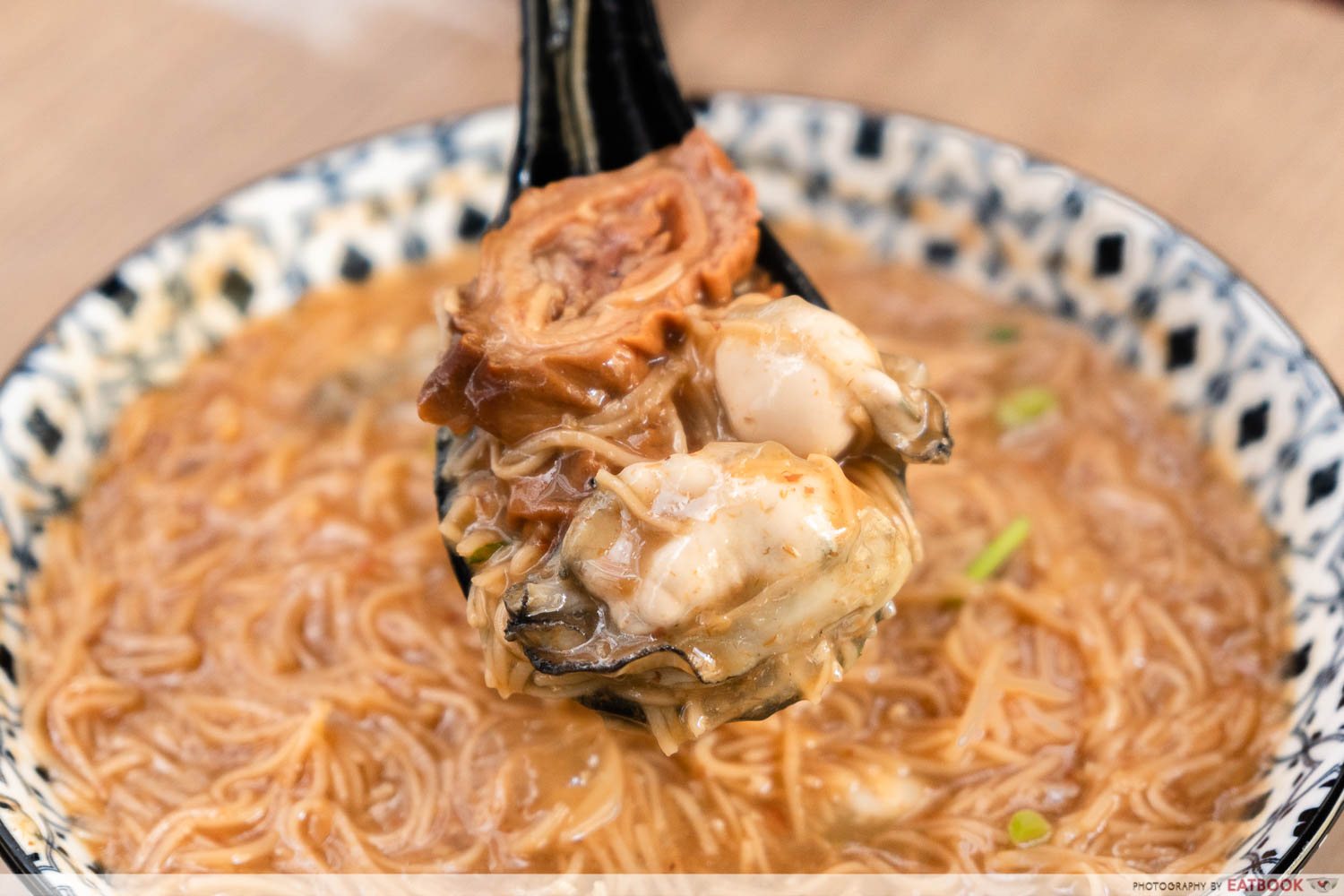 The plump oysters were pleasantly fresh, while the innards were clean-tasting, thankfully. The noodles are served short a la Taiwan-style, so you only need a spoon to tuck in. This means you can also scoop up an oyster, along with a piece of pork intestine, and enjoy it all in one mouthful. If you're not a big eater, I'd recommend going for the half serving ($6.90) instead, as it was rather filling.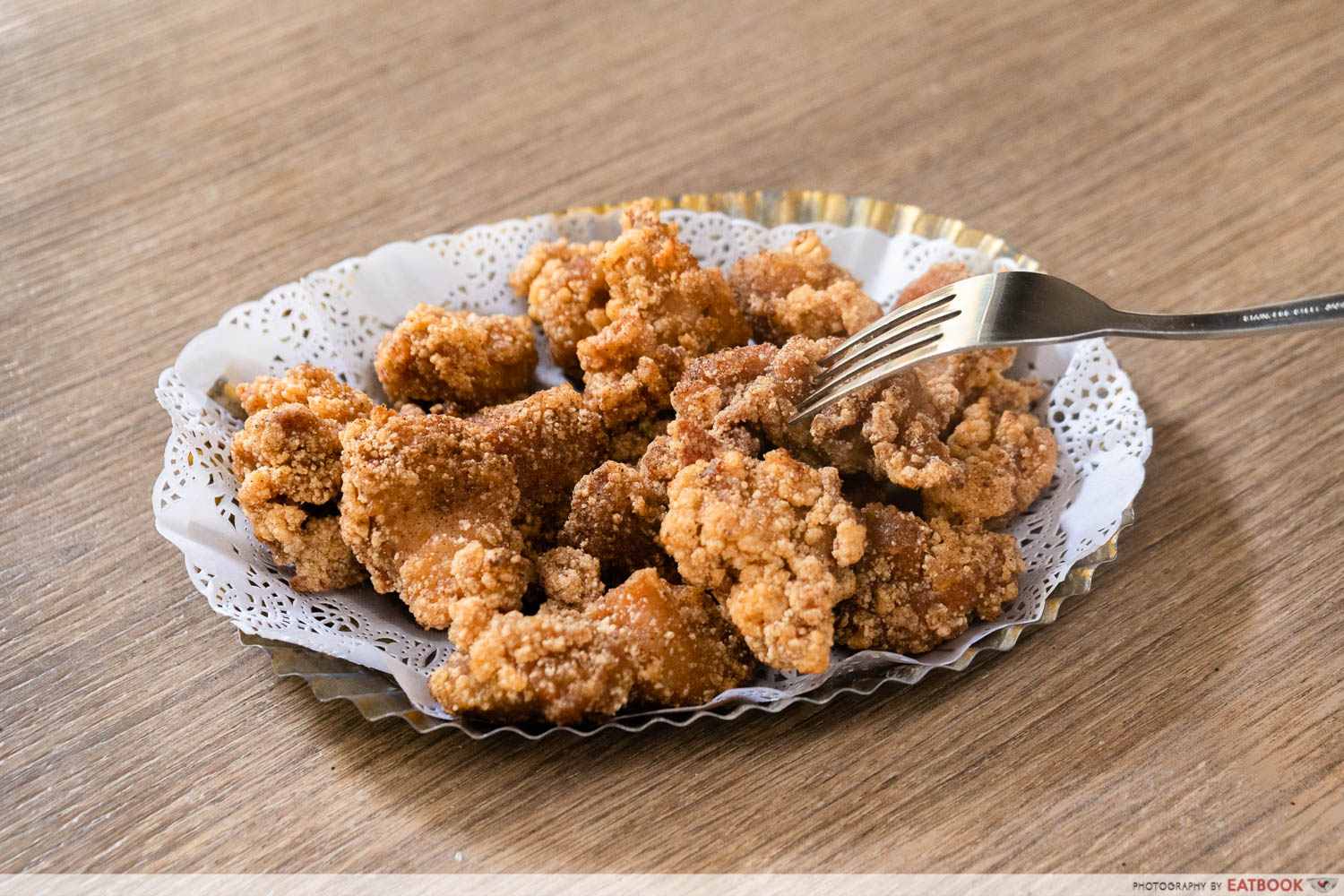 Taiwanese Salty Crispy Chicken ($8.90), also known as '咸酥鸡' (yan su ji), is a night market staple. This version leaned sweet, just like how most Taiwanese dishes tended to be. The sizeable chunks of chicken were well-seasoned, and coated in a thin, savoury batter that remained crispy even after our shoot.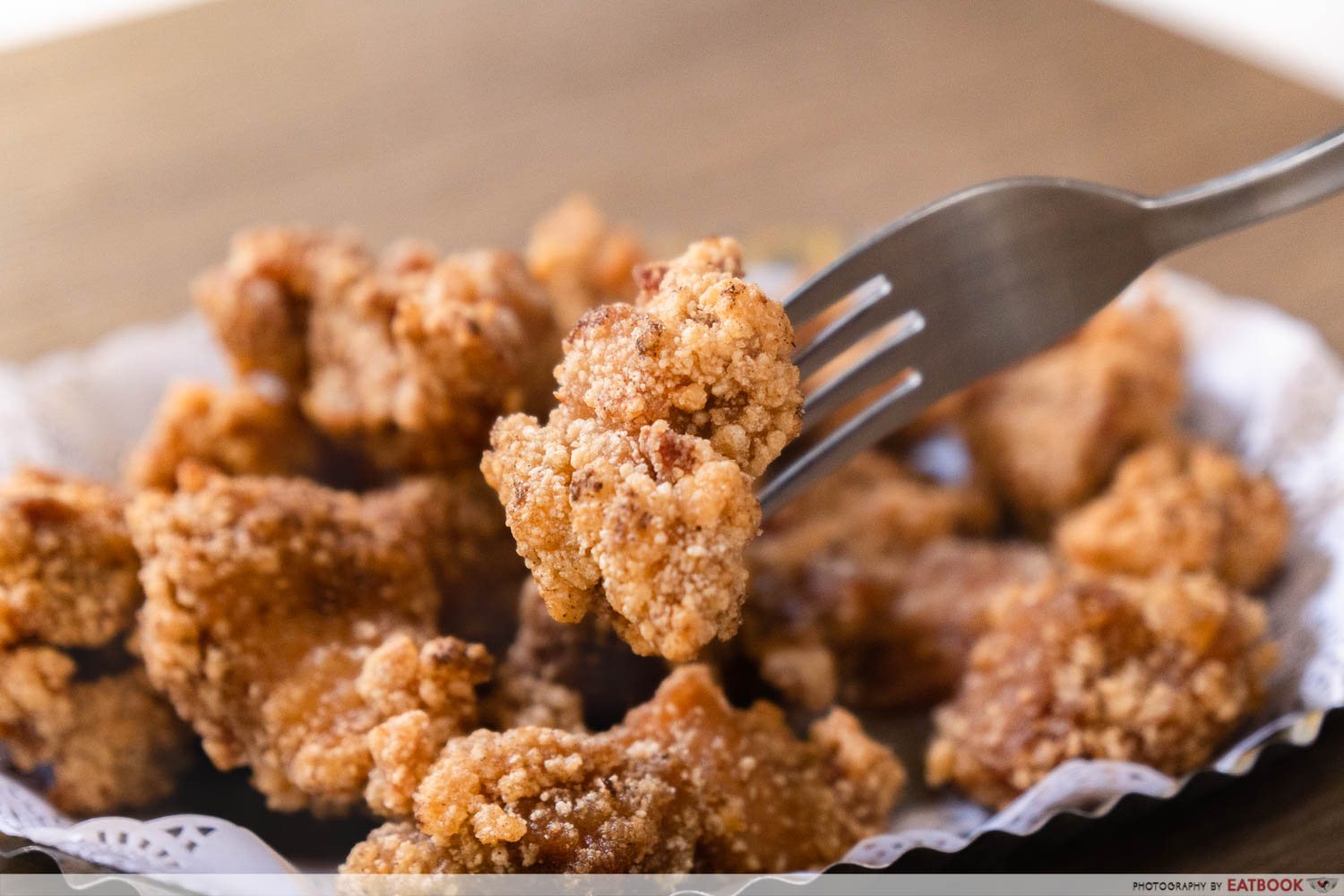 Personally, I would have preferred more peppery notes in the seasoning, as the flavour became rather unexciting after a while. For $8.90, I was expecting a bigger portion as well. Nonetheless, I really enjoyed how meaty each piece was. Despite being deep-fried, the chicken chunks were not too greasy either.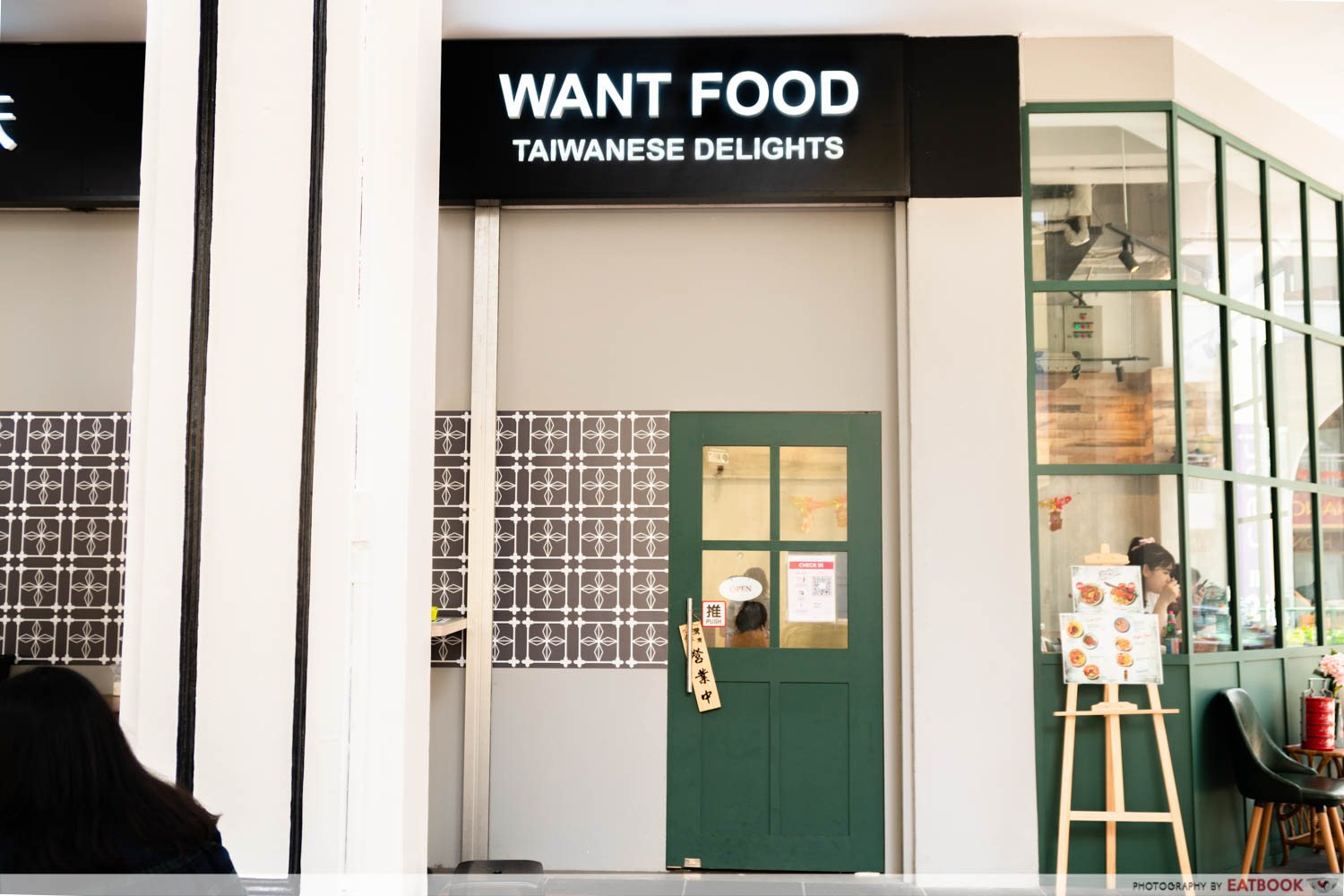 The cosy eatery sits in a corner along Cross Street, and is a short two-minute walk from Chinatown MRT Station. Indoor seats are super limited, so they've placed some tables and chairs outside to cater to the lunch crowd. If you wish to score a seat within the cafe, I'd recommend avoiding peak timings as they're super popular with those working around the area.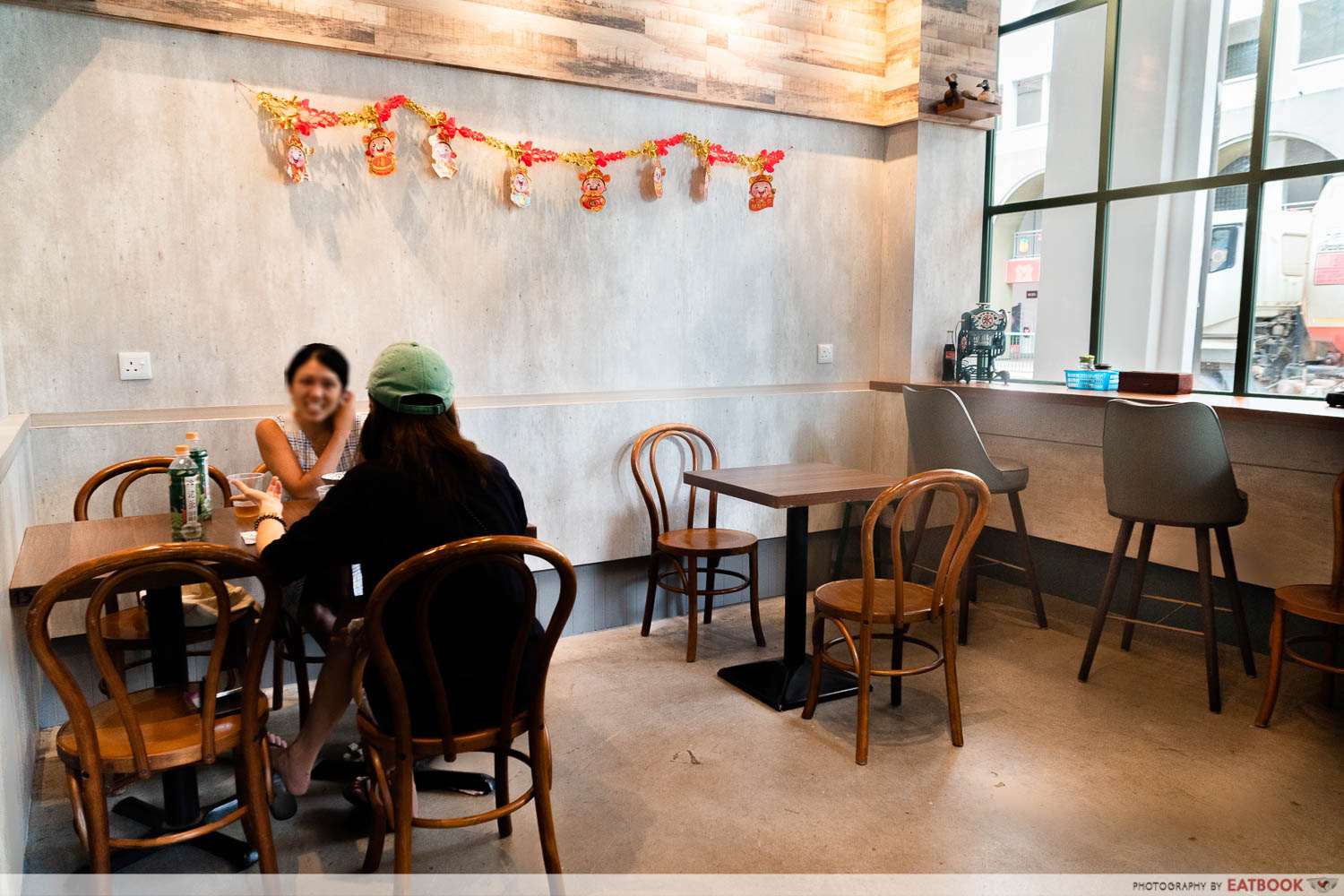 Decked in warm wood and concrete walls, the minimalist cafe's rustic decor and knick knacks added to the homey and lived-in vibes. I was drawn to the countertop seats, as the large window panels brought back fond memories of me cafe-hopping solo during my exchange.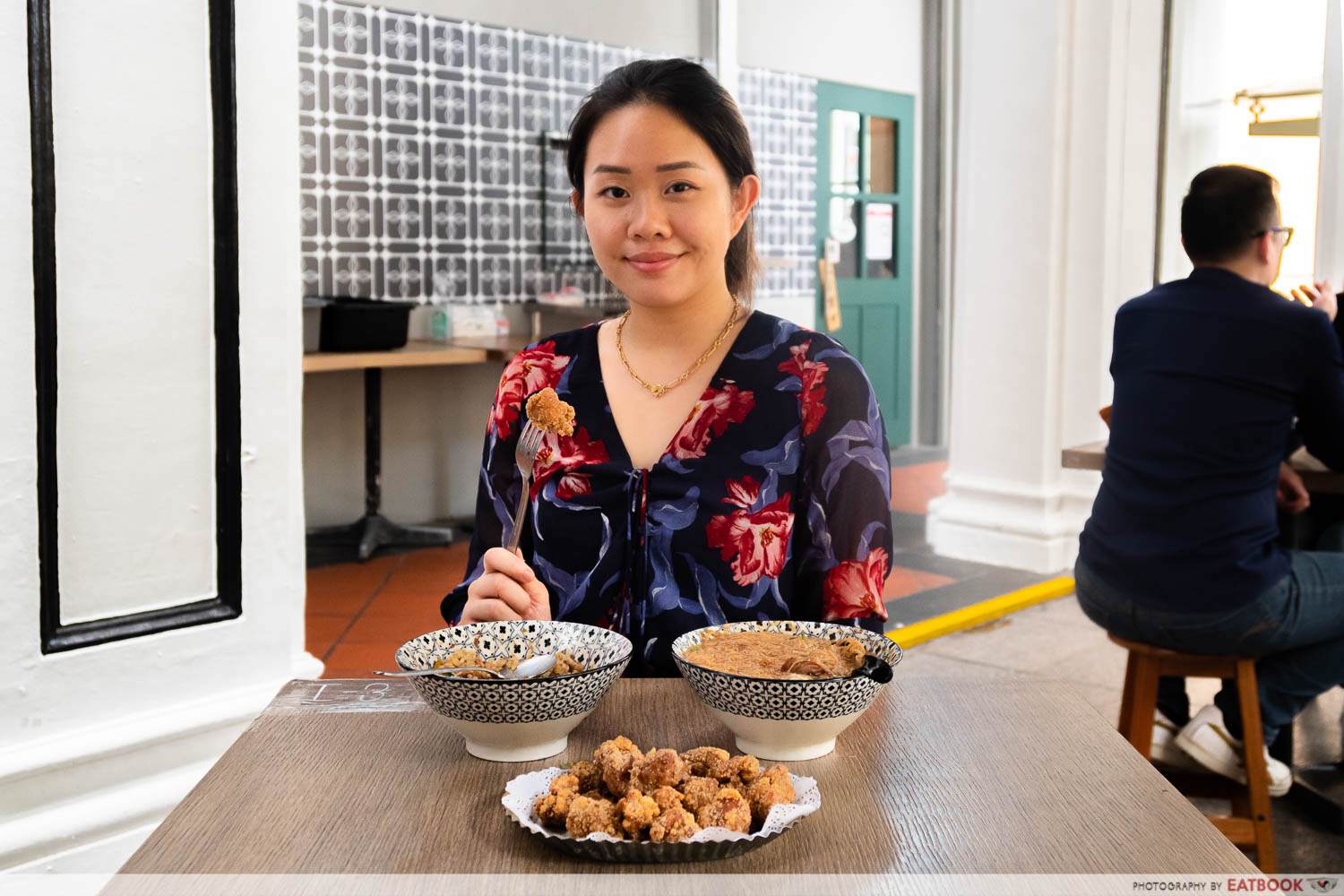 Want Food Taiwanese Delights has made it possible for us to indulge in authentic and affordable Taiwanese fare without a plane ticket. The next time I return, I'll make sure to snag a counter seat, where I can watch the world go by and pretend I'm my own main character in a Taiwanese film. All I'd need to complete the experience is a cup of bubble tea—if the cafe would so kindly add it to their menu.
If you're looking for more Taiwanese food worth trying, read our review on The Voice for affordable braised pork rice and mee sua in Jurong Point. Alternatively, visit True Breakfast at Cuppage Plaza for Taiwanese dan bing and more.
Address: 22 Cross Street, #01-63, Singapore 048421
Opening hours: Mon-Fri 11am to 3pm, Fri 6pm to 9pm, Sat 11am to 9pm
Tel: 9396 9800
Website
Want Food Taiwanese Delights is not a halal-certified eatery.
Photos taken by Loh Li Min.
This was an independent review by Eatbook.sg
True Breakfast: Authentic Taiwanese Eatery Has Breakfast Omelette, Sandwiches, And Lu Rou Fan From $4

Summary
Pros
– Nett prices
– Authentic Taiwanese taste
– Convenient location
Cons
– Limited seats
– Limited range of dishes
Recommended dishes: Lu Rou Fan ($7.90), Salty Crispy Chicken ($8.90)
Opening hours: Mon-Fri 11am to 3pm, Fri 6pm to 9pm, Sat 11am to 9pm
Address: 22 Cross Street, #01-63, Singapore 048421


Living on a well-balanced diet of cake and coffee
Eatbook offers honest reviews and recommendations on Singapore food.
Eatbook offers honest reviews and recommendations on Singapore food.
EatBook.sg© 2015 – All Rights Reserved.
Past Contest Winners